HCCA Board Meetings are typically held on the 1st Tuesday of the month at 7PM at British American Auto Care, 9577 Berger Road, Columbia, MD.  We encourage dues paying members to attend, and we hold a "member speak-out" at the start of each meeting.
Our next Board meeting is Wednesday, September 17, 2014 at 7PM.
Whether you're a new member or you've been with us for a while, we encourage you to come out.  Just contact us if you have any questions.
Read More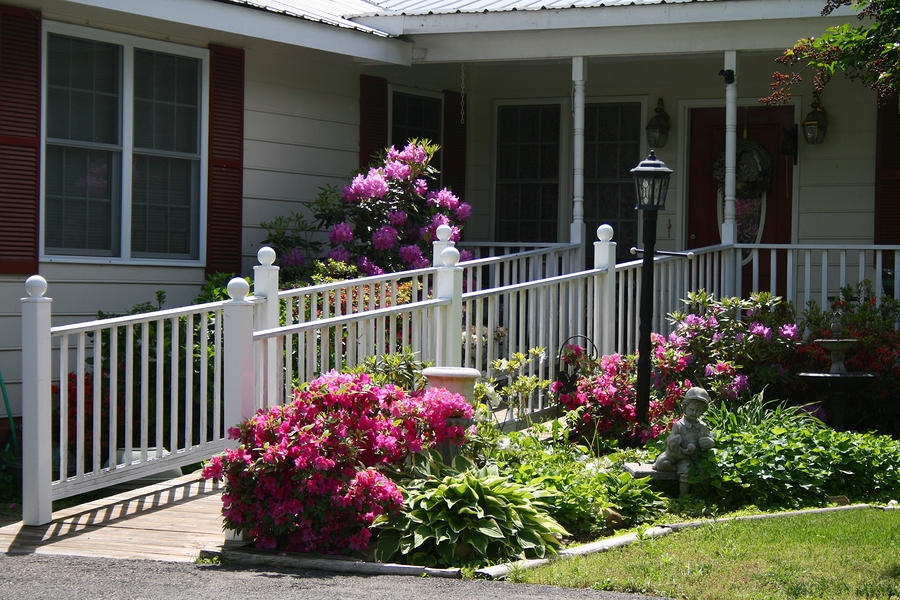 The Maryland Department of Housing and Community Development (DHCD), working in partnership with the Maryland Department of Aging, is embarking on a program that focuses on promoting accessibility related improvements that seniors can make to their homes in order to facilitate remaining in the home and maintaining independence.
The program makes accessibility improvements affordable by providing deferred loans at zero percent interest for a term of 30 years. The program is funded by DHCD under the Maryland Housing Rehabilitation Program, is administered by the Special Loans Program, and is marketed through the local Area Agencies on Aging.  All closing cost are included in the loan.
Read More
Do you know who's contributing to the campaigns of the candidates running in the upcoming elections?
Early this year, the HCCA board took a look at financial reports for many of the campaigns in this election cycle. We began this exercise before the Supreme Court gutted the campaign finance laws, eliminating the cap on the overall amount an individual can donate within a campaign cycle and leading Maryland election officials to adopt a no enforcement policy regarding the state's limit of $10,000 of contributions in an election cycle.
Despite this setback that further dilutes the voices of ordinary citizens, there's a lot you can learn from a glance at (or in-depth study of) these reports. Here are five things you should know about campaign finance reporting that impact us here in Howard County.
Read More
Preserve Dayton is announces two events for those interested in fighting the proposed industrial mulching facility to be built on agriculturally preserved farmland.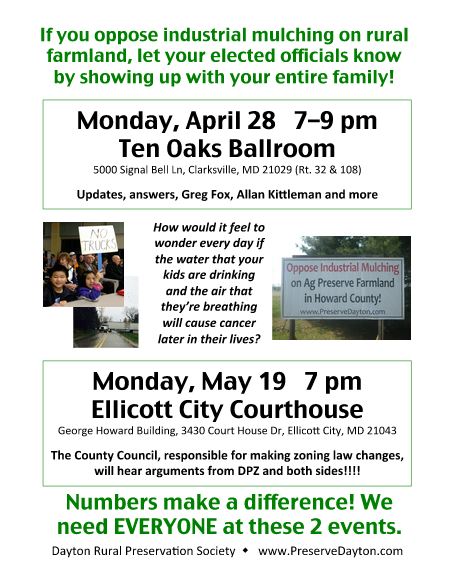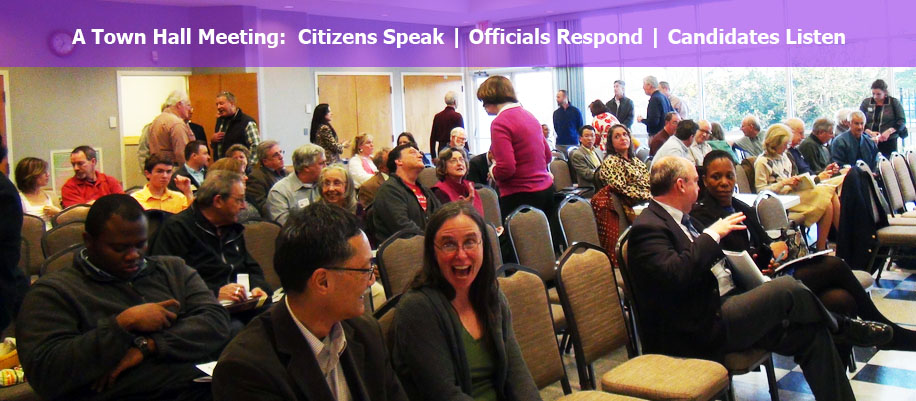 As promised, this provides a summary of the questions asked at the April 1st HCCA Town Hall Meeting, but first, we would like to thank the participants…
Thanks to all the county residents who came with questions for our panel of government officials.  You provided an excellent opportunity for candidates and officials, in a position to respond, to hear and ideally move to address your concerns.
We also would like to thank our panel of officials for coming out to hear and respond to citizen's concerns.
Marsha McLaughlin,

 Director of the Department of Zoning

Tom Carbo,

 Director of Housing


Ellen Flynn Giles, 

Chairman, Board of Education, HCPSS

Ken Roey,

Executive Director of Facilities Planning and Management, HCPSS
Additionally, we are pleased that so many of the candidates came out to hear the voices of concerned citizens.  Thanks so much for attending. (Candidates are listed alphabetically by first name.)
Read More
Thanks to all who came out to this year's annual meeting.  We greatly appreciate the support of the candidates, question contributors and observers.
 2013/14 Accomplishments
Read More
Have you saved the dates for these two, important, upcoming HCCA events?
April 1, 2014 – Town Hall Meeting (Citizens Speak | Officials Respond| Candidates Listen)
Get Details/Register
May 7,  2014 – HCCA Annual Meeting
Get the Flier
The Howard County Citizens Association (HCCA) cordially invites you to attend a Town Hall Listening Meeting with the Director of the Department of Zoning, Marsha McLaughlin; the Director of Housing, Tom Carbo; and the County's candidates seeking office.  This will include those running for County Executive, Allan Kittleman and Courtney Watson.  The aforementioned have accepted our invitation.  We have also invited Council and School Board candidates and members.
Read More