HCCA Board Meetings are typically held on the 1st Tuesday of the month at 7PM at British American Auto Care, 9577 Berger Road, Columbia, MD.  We encourage dues paying members to attend, and we hold a "member speak-out" at the start of each meeting.
The next time the Board will be getting together will be at our annual meeting on Wednesday, May 7, 2014.
Our next Board meeting is Tuesday, May 13, 2014 at 7PM.
Whether you're a new member or you've been with us for a while, we encourage you to come out.  Just contact us if you have any questions.
Read More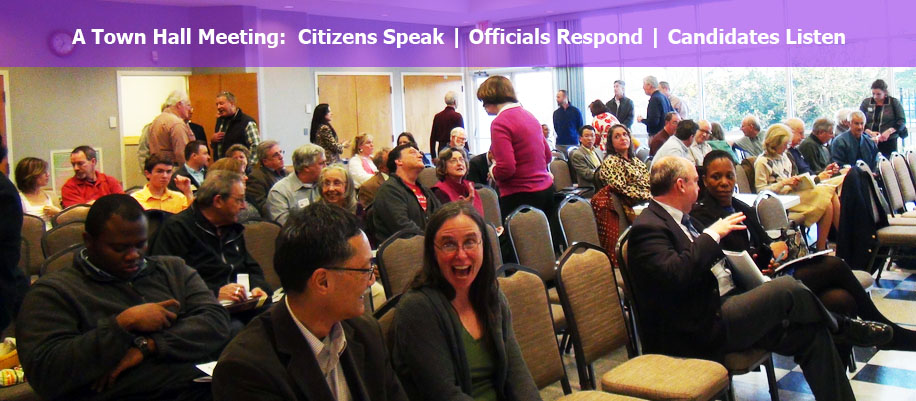 As promised, this provides a summary of the questions asked at the April 1st HCCA Town Hall Meeting, but first, we would like to thank the participants…
Thanks to all the county residents who came with questions for our panel of government officials.  You provided an excellent opportunity for candidates and officials, in a position to respond, to hear and ideally move to address your concerns.
We also would like to thank our panel of officials for coming out to hear and respond to citizen's concerns.
Marsha McLaughlin,

 Director of the Department of Zoning

Tom Carbo,

 Director of Housing


Ellen Flynn Giles, 

Chairman, Board of Education, HCPSS

Ken Roey,

Executive Director of Facilities Planning and Management, HCPSS
Additionally, we are pleased that so many of the candidates came out to hear the voices of concerned citizens.  Thanks so much for attending. (Candidates are listed alphabetically by first name.)
Read More
Have you saved the dates for these two, important, upcoming HCCA events?
April 1, 2014 – Town Hall Meeting (Citizens Speak | Officials Respond| Candidates Listen)
Get Details/Register
May 7,  2014 – HCCA Annual Meeting
Get the Flier
The Howard County Citizens Association (HCCA) cordially invites you to attend a Town Hall Listening Meeting with the Director of the Department of Zoning, Marsha McLaughlin; the Director of Housing, Tom Carbo; and the County's candidates seeking office.  This will include those running for County Executive, Allan Kittleman and Courtney Watson.  The aforementioned have accepted our invitation.  We have also invited Council and School Board candidates and members.
Read More
This post was contributed by Brian England.  For the past 35 years, he has owned and operated British American Auto Care in Columbia, MD.
Forty years ago, when we moved to Columbia, we lived in Oakland Mills. Our village center was compact, but it had everything we needed on a weekly basis: a grocery store, baker, photo shop, liquor store, butcher, pizza shop, restaurants, a bank and a hardware store — all just a mile away.
Then along came the first of the big box stores, a large hardware store called Hechinger. It spelled the end for Columbia's two local hardware stores. Over the years we have lost a lot to the big box stores. We've lost book stores, drug stores, and record stores, but now things are cycling back. At a recent meeting with fellow small business owners from around the U.S., I met a lady that is opening small hardware stores in Baltimore and Washington. I spoke with someone else that had opened two successful book stores in Frederick. The trend is swinging back to small, locally owned businesses.  
Read More
The Howard County Citizens Association (HCCA) Board is appalled that yet another referendum attempt by citizens of Howard County has failed, not because they didn't get the needed amount of signatures-they did-but because of the poor process by the Board of Elections (BOE).  In this case the BOE waited until all the signatures had been gathered before ruling on the legal sufficiency of the summary provided after having led the petitioners to believe in August the summary was sufficient.  The BOE had plenty of time to rule on this, but chose to wait until it was too late for the petitioners to adjust.  Why?
This is the third time in less than 10 years the citizen's right to redress has been thwarted by the BOE because they found some procedural or legal way around having to certify the referendum.  HCCA disapproves this situation and will work towards getting a process that will actually allow citizens their right to referendum.
Stu Kohn
HCCA, President
Read More
HCCA is supporting Citizens Working to Fix Howard County (aka Fix Howard County) in their initiative to take controversial issues to the voters via a referendum.  Support is still needed.  For more information, updates, or to make a donation go to fixhoco.com. 
HCCA Position
Read More
The Howard County Council has voted on the Comprehensive Zoning package; its consequences will be felt in the county for years. We have yet to determine the full impact of the changes, but the HCCA has issued a point paper commenting on the process and recommending changes.
Read the Point Paper
Read More