Join The Conversation
---
Stay abreast of the issues happening in Howard County & engage in discussion with other concerned residents by joining the HCCA Yahoo Group.  Participation in the group allows you to monitor issues of concern to other Howard County citizens and stay informed about important Howard County issues and events.
What is the HCCA Yahoo Group?
Also called an e-mail listserve, the HCCA Yahoo Group serves as an e-mail communication platform for HCCA members and concerned residents.  Everyone who joins the HCCA e-mail listserve can read e-mails posted by listserve members.  This can increase your awareness of what's happening and how you can have an impact. Additionally you can:
Post replies to other members emails.
Post your own e-mails informing members of key issues in the Howard County Community.
Serve as a liaison with other organizations and communities.
Just complete and submit the form below by providing your name, e-mail address, and mailing address.  Once processed, you will receive an e-mail from "HOWARD-CITIZEN-owner@yahoogroups.com" welcoming you to join the listserve.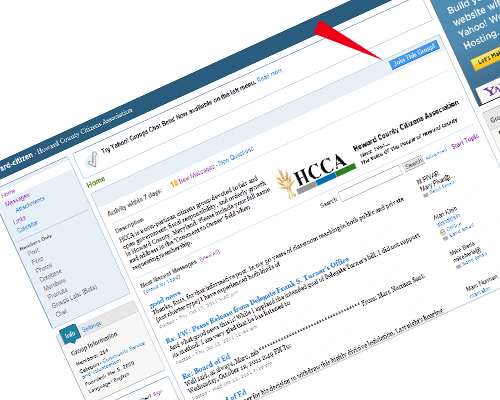 Listserv Rules (Netiquette)
You will be expected to adhere to the Rules of Etiquette in your use of the e-mail listserve. Please read them in their entirety. Keep in mind:
The context of discussions should be in accord with HCCA's Mission.
Hundreds of people receive your message. That the group includes some county and state elected officials, members of the press as well as prospective HCCA members. The subject matter and the way you express your views should always consider the wider audience.
Communications must remain flame-free. "Flaming" is defined as a personal attack on the group or another group member.
The ListServ is not intended as a forum for back-and-forth messages that come across as personal political views. Discussions should be constructive and provide additional insights.
Always sign your full name to every message.
HCCA expects a high level of civility because everyone is entitled to respect.
Upgrade to full HCCA Membership
There are some additional benefits of HCCA membership.  Most importantly, by joining HCCA you will have the opportunity to help boost HCCA membership.  Numbers count with legislatures and your membership helps lend weight to the organization!
As an active member, you can also choose to:
Share information and knowledge from your areas of expertise.
Alert HCCA officers to potential issues.
Participate in "Member Speak Outs" held at each HCCA Board Meeting.
Perform research and prepare press releases.
Attend annual meetings, voice your concerns, and provide your advice for a better Howard County.